Charlottesville Pathology Associates and Sentara Martha Jefferson Hospital Laboratory Services strive to maintain a level of quality that is exceptional. Obtaining this quality in our laboratory must start with the experience and education of the staff. Sentara Martha Jefferson Laboratory Services employs highly experienced and dedicated technologists in Histology and Cytology. In addition, Charlottesville Pathology Associates added a Pathologists' Assistant to the group to enhance surgical pathology services.
Pathologists' Assistant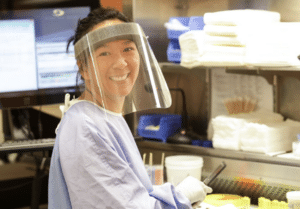 Phon Wikoff provides technical assistance in anatomic pathology. Phon received her undergraduate degree from UVA and her Masters in Health Science from the Pathologists' Assistant Program at Duke University. She joined CPA with 2 ½ years of experience as a PA at UVA. Phon complements CPA's commitment to providing the highest quality of diagnostic services for clinical doctors and their patients.
Practice Administrator and Client Services Representative
Noel Jorgensen is the Practice Administrator and Client Services Representative for Charlottesville Pathology Associates. Noel received her undergraduate degree in Business Administration from University of Tennessee. She has been with CPA since 2006 and manages the practice details while ensuring all of the clients (patients and referring physicians) are getting the highest level of customer service. She is always available if there is any need and continues to oversee all aspects of the practice to ensure an overall positive client experience and a team atmosphere.